Skincare and beauty trends have changed over the last few years. Today the skincare is not only about keeping your skin moisturized or getting regular facials; rather it is about adding serums and essentials oils, toners, and cleansers in your skincare routine. Some celebrities have 10-15 steps daily skincare routines, while others stick to the basic 4 steps: exfoliation, cleansing, miniaturizing, and sunscreen application.  Research shows that when skincare products are applied cold on the face, they deliver better results, and that brings the skincare mini-fridges into the picture. A mini-fridge is used to put your skincare products so that you don't have to go back and forth from your regular fridge to get your products. The temperature setting for the regular fridge is also different from the mini-fridge. This fridge will also only have your skincare fridge, so there are also no chances of contamination of any kind. Keeping your products cold will also extend the shelf life.
Skincare Fridge: Expectations vs Reality
Skincare fridge is a reality. If you are an avid social media user and follow a few makeup gurus, then you might have seen them use one. These beauty gurus always talk too highly of this product. However, if you think that you will miraculously get the perfect skin these social media influencers have, you are mistaken. Just putting the skincare products in this mini fridge will not give you the best skin or increase the benefits of these products. If you are worried about the morning puffiness on your face, then using cold products will significantly reduce it, but it will not change the skin in any way.
Many new users have very high expectations when they start using this product. However, it is not a life-altering product. You will not see any instant results if that is what you are looking to achieve. This is more of a luxury than a necessity. You can achieve pretty much the same results if you place the products in the regular refrigerator. However, if you are a beauty influencer or want to start a beauty page on a social media platform, this might help you add more aesthetics to your videos.
A Beauty Fridge is Unnecessary—a Marketing Gimmick— Why?
According to many dermatologists and doctors, a mini-fridge is a marketing gimmick and nothing else. It is just a way of attracting people to something new that has been introduced in the market. Whenever new skincare or makeup product is introduced in the market, it goes through series of tests; it is checked if leaving at room temperature will decompose the ingredients or affect the ingredients in any way. The products should also be able to go through oven heat and not decompose, and so they can easily withstand apartment temperature no matter which floor you live on.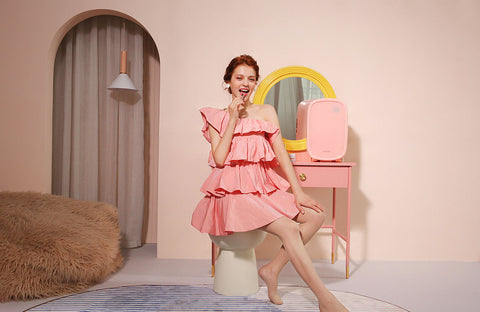 Organic products are processed differently than synthesized products. Lately, the trends have shifted towards the use of organic products. These products don't have a lot of preservatives and this makes them sensitive to extreme temperatures. Natural organic skincare products need a stable environment for them to stay effective for a long time. The dermatologists also go on to say that organic products should be kept in a stable environment since the ingredients used are fragile and can decompose very easily.  If you have face masks and moisturizers with active organic ingredients, it is best to place them in the fridge. The skincare fridge for artificial and preserved products is a gimmick, but it might be a blessing if nothing less for natural products.
Remember the times when the lipsticks in your bag turned all soft and bad when your bag was left in the car for a long time or after a long day out. Does that still happen to your lipsticks, and the answer is no. the formulas of the beauty products have significantly improved as time went by. Today's lipsticks and lip products have a longer life than they had, let's say a decade ago. You don't get extreme reactions to products even if you have used an expired product, which tells how far we have come as a beauty industry. Even if you leave your skincare products on the countertop and use it the next day, they will work the same way on your skin.
Investing in organic products means that they will benefit your skin and will not show any side effects. Organic products cost a little more than ordinary products and that is why you should go a step ahead to keep them from going bad before they end.
What does a Skincare Fridge Do?
As the name suggests, the skincare fridge is used to cool the skincare products, increasing the benefits of the products. There are a few benefits associated with the product, which for some are just plain myths, but for others, they religiously believe in the benefits of the skincare fridge. For example, serums and masks can be best put in the fridge as the ingredients will work a little better or will be more soothing when they are cooled. Of course, if you are zealous about skincare, then there is no harm in getting yourself a skincare fridge.
Can You Put Skin-Care Products in Your Regular Fridge?
A few products should be kept cool to increase their effectiveness, but you shouldn't place all your products in the refrigerator. For example, vitamin C serums, sheet masks, eye masks, and eye creams can be put in the skincare refrigerator as soothing ingredients. At the same time, some products shouldn't be kept in the fridge. These products are exfoliants, cleansers, pore strips, etc. If you are thinking of buying a skincare fridge, you must go through the usage and the products that can be placed in them. The products you have don't need to be kept in the fridge or need any cooling.
The skincare fridge is a luxury and nothing more; the more you add to your skincare, the more demanding your skin will be. Many experts suggest that simple skincare routines are the best. In addition, the more products you use, the more there are chances that your skin will react to an ingredient.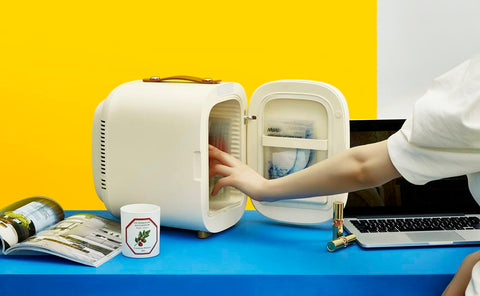 Benefits of Skincare Fridge
There might not be much scientific proof available for this, but beauty influencers firmly believe that there are many benefits associated with a skincare fridge. According to them, it is not just an ordinary device, and you definitely should not use your regular fridge to cool down your skincare or beauty product. A few benefits that might push you to invest in a skincare fridge are as follows:
There are quite a few products you use that say keep in a cold and dry place, while some might even indicate keeping them refrigerated to get the most out of these. Some products will either go stale or will discolor if you live somewhere hot. Buying a skincare fridge will ensure that you can use your skincare products for a long time without wasting any product.
Many people have the habit of icing the face; this ensures that the makeup stays put for a long time and calms down the skin. If you have hyperpigmentation or you have acne-prone skin, icing regularly can bring amazing results. Using the same technique here, if you chill your skincare products before applying, they will act on the skin better. A jade roller is a beauty tool used to ensure lymph drainage; when cooled, it acts as ice but without any water dripping from it.
Bacteria is one of the greatest possible reasons why your face is breaking out. This is because the bacteria can practically grow on anything. However, when you place your skincare in the fridge, the bacteria don't get the ideal temperature at which they can exist; hence it dies. This way, your skincare is protected from any bacteria that might be surviving. However, there is no scientific proof to explain this, but people have seen better results from using this.
Depuff Properties Improve
As you wake up in the morning, the first thing you are welcomed with is a puffy face and eyes. This can either be due to lack of sleep or too much sleep. The best way to remove puffiness is to use ice-cold water to wash your face or use cold products to make it convenient. For example, eye gels or depuffing creams, when used cold, will work miraculously. Another trick is to leave a spoon in your fridge overnight; use this spoon on your eyes and eyebags the next morning; the results will shock you. If you live in a dorm room, you might not always have a fridge in there; this skincare fridge will be your lifesaver.
If you are still confused about whether you want this or not, then the cuteness is enough to get it. If you like investing money in your skincare products and beauty products, then there is nothing wrong it you also put in a little extra money into this as well
What Do You Put in a Skincare Fridge?

There is a long list of products that can be kept in the skincare refrigerator, but some products should not be kept in the refrigerator. The list of products that you can put in the fridge are:
Gels
Serums
Under-eye creams
Essences
Jade rollers
Sheets masks
Vitamin C serums
Acne treatment products
Products with fruits ingredients
Rose extract or face mists
The list of products that you should avoid putting in the refrigerator are:
Exfoliants
Cleansers
Pore strips
Clay masks
Oil-based products
As a general rule of thumb, anything with calming properties or increased water level can be put in the refrigerator. You don't need to think too much into it as nothing will go wrong. However, even if you put it in, there was a long period.
Other than skincare, beauty influencers also put their water and nail colors foundations in the refrigerator. Your products like your concealers and oil-based primers shouldn't be kept in the fridge as this will separate the product. But if you don't have one, don't worry. You are not missing out on much. Every few years, there comes a new trend in the beauty and fashion industry that takes it by storm, and this is also one of those trends. Even if you don't have a skincare fridge, your beauty and skincare products will work the same way as they are supposed to work. By putting them in the refrigerator, you might make them a little extra calming, but it won't make the ingredients extra potent in any way. Adding a little extra chill will make your experience more enjoyable.